Blog
I was invited to paint an indoor wall in a museum for a Graffitti and Street Art Festival ¨BundeskunstHALL OF FAME¨-
This is a metaphorical representation of how do I feel taking my work out of its context.
Special thanks to Allan Gretzki and Friederike Siebert for the care and to all the people from the museum for their hospitality.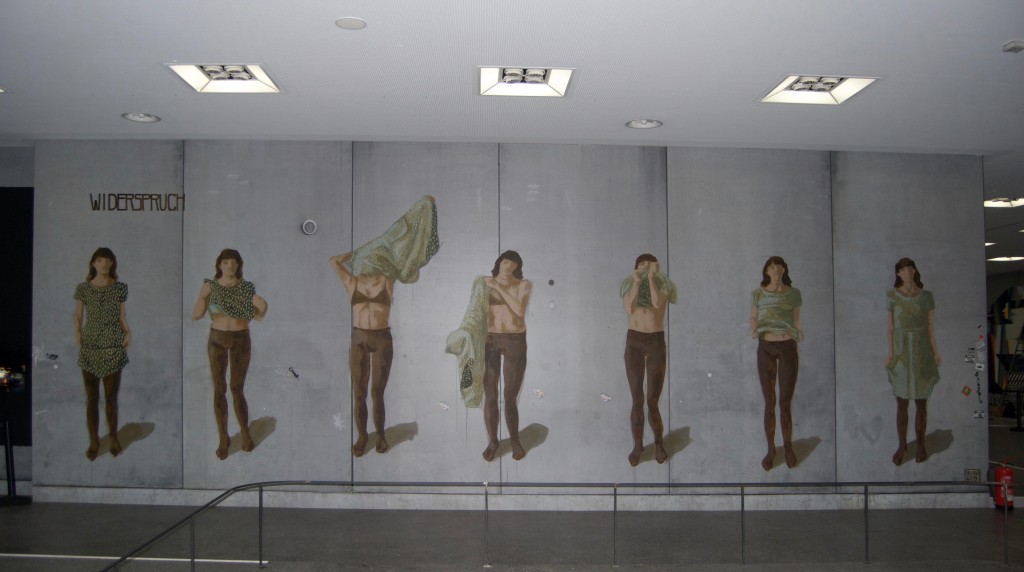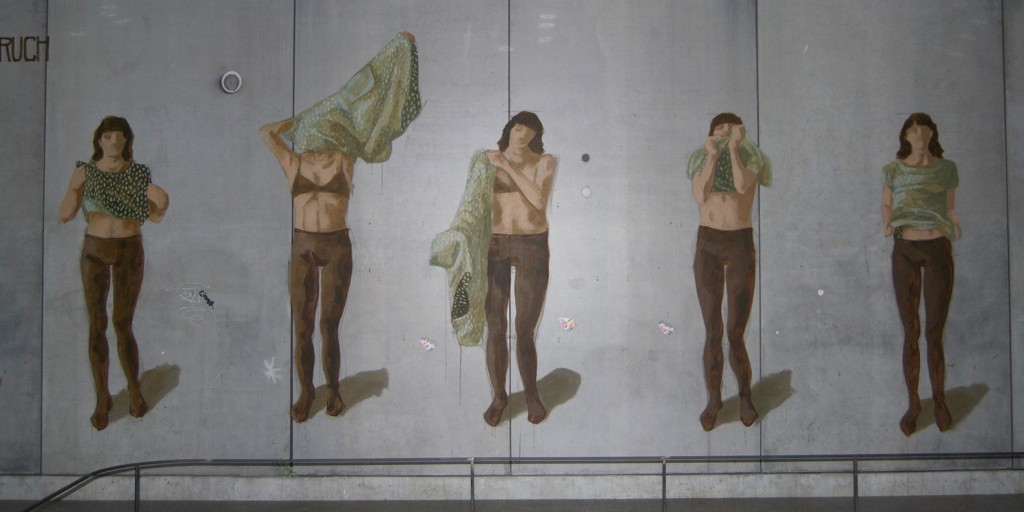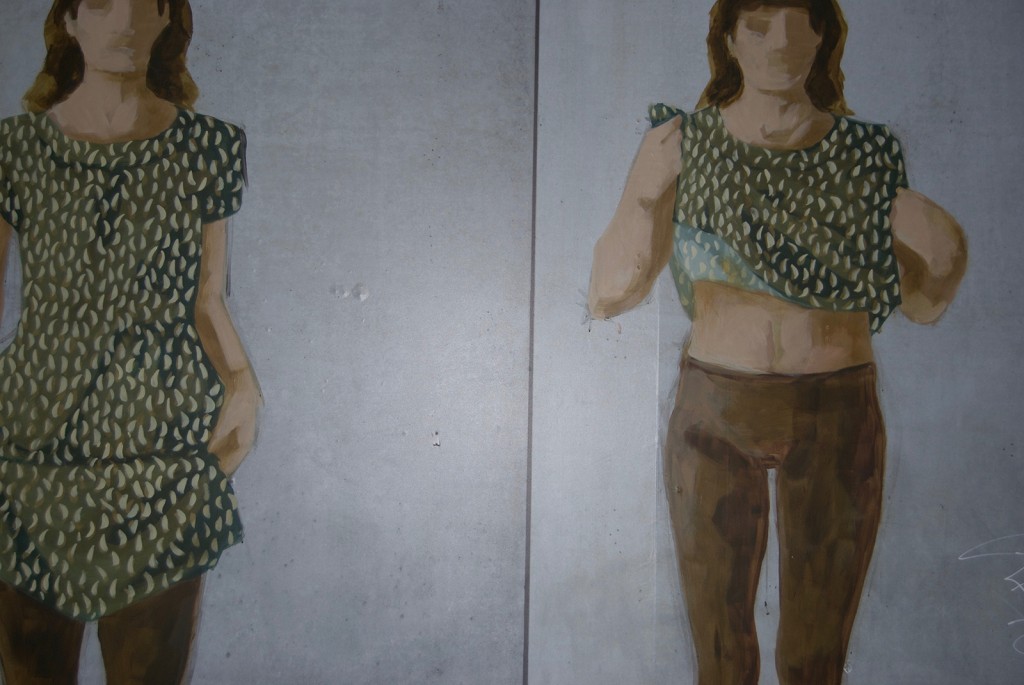 25 November ¨International Day for the Elimination of Violence against Women¨
Ravenna, Italy 2015 for Subsidence Festival.
This wall is located in the ¨Giardino Sorelle Mirabal¨, named this way in honor to the Mirabal Sisters, four Dominican sisters who opposed the dictatorship of Rafael Trujillo and were involved in clandestine activities against his regime. They use to called themselves ¨The Butterflies¨.
Three of the sisters were assassinated on 25 November 1960. The Mirabal´s death was a catalyst for change, and was the first event in a long sequence of events that led to freedom and democracy in the Dominican Republic.
In 1999 the 25 November was designated as the ¨International Day for the Elimination of Violence against Women¨ in their honor.
Many special thanks to Antonella Midka Perazza and Mirko Dadich for the love, care and nice company, thanks to Chiara and Marco and to all the women from ¨Casa della donne¨ for the love.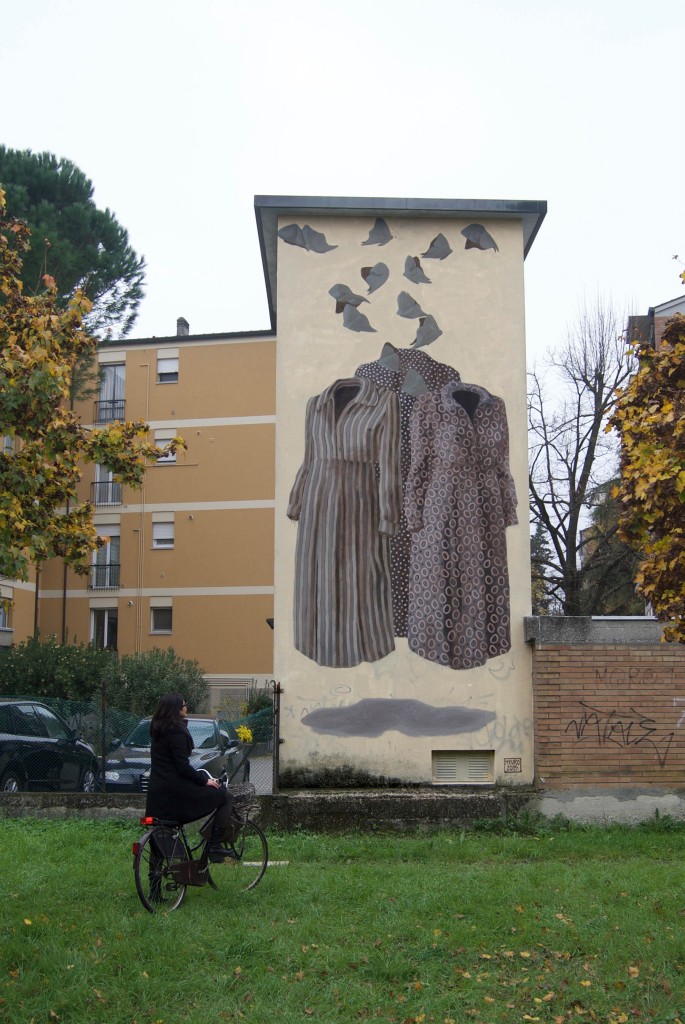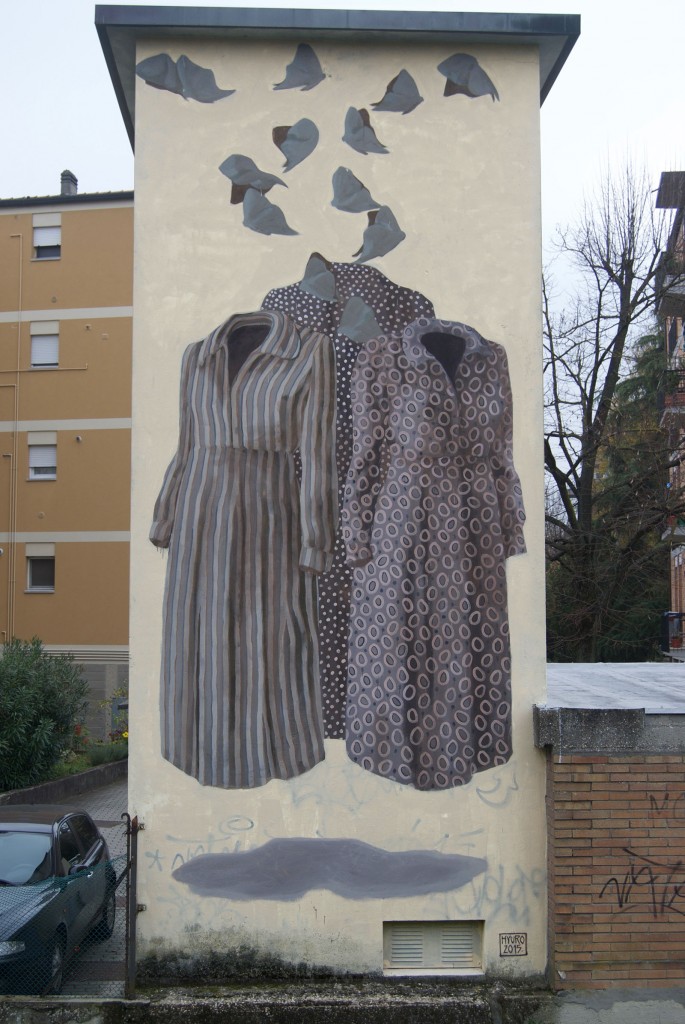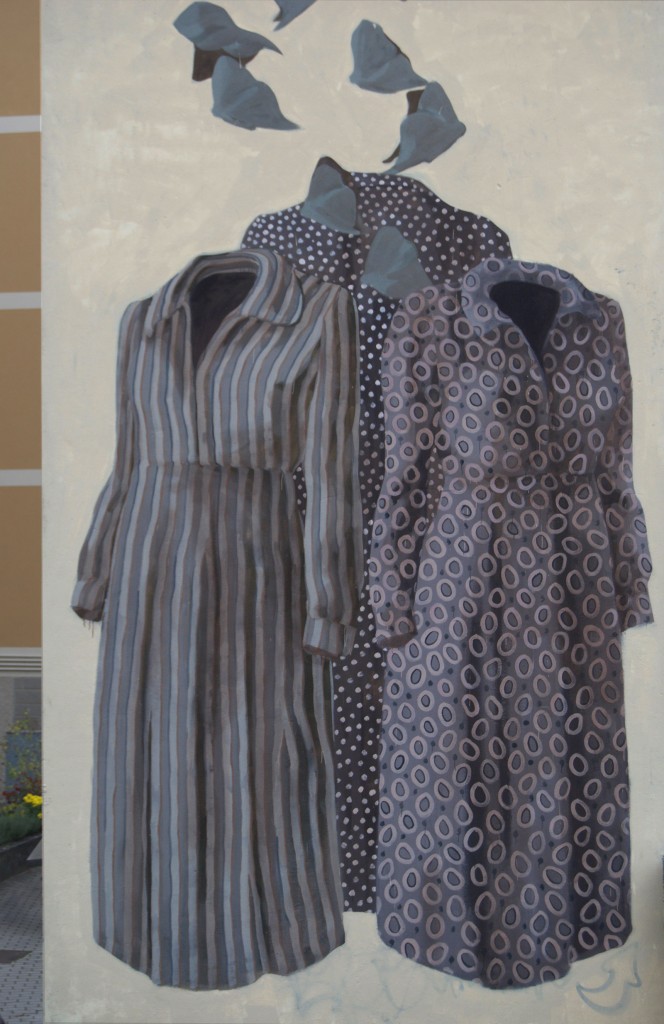 ¨Il est interdit d´interdire¨ ( Prohibido prohibir) Niort, France 2015- for Le 4eme Mur Festival.
This wall doesn't speak solely through context, but it does speak about our time. It tells of human beings, immigrants or refugees alike, any person who for any number of reasons feels the need to move somewhere else. It speaks of our innate indifference to distance and our lack of interest for nameless and faceless people. It speaks to the internal contradiction between principles, rights, and our own self interests.
Special thanks to Eric Surmont for inviting me to take part of this project and to all the people from Niort for their frienship.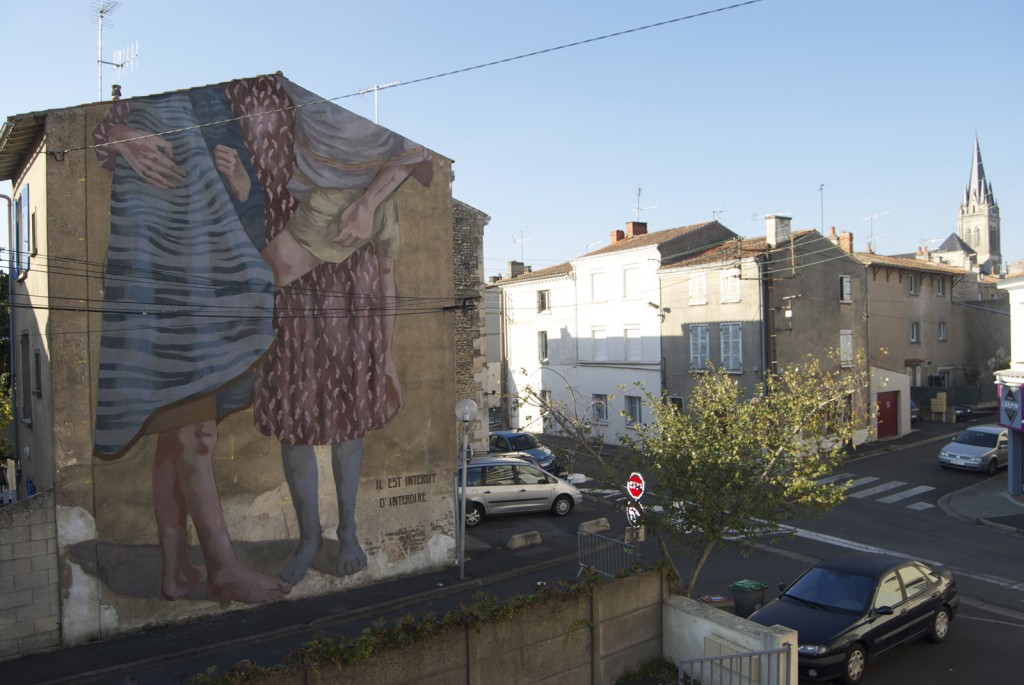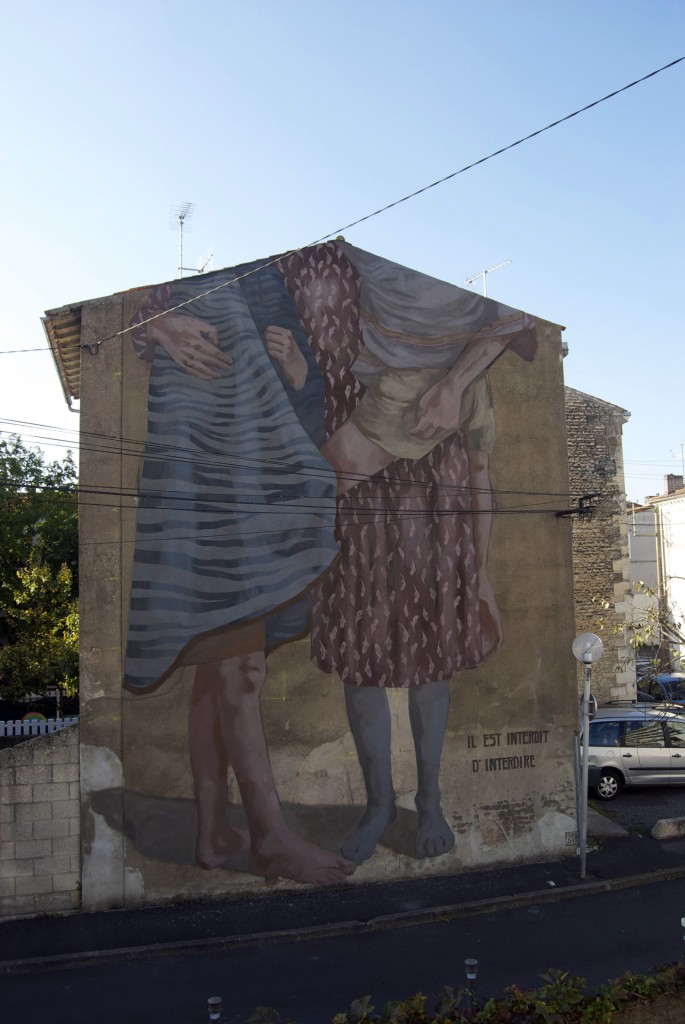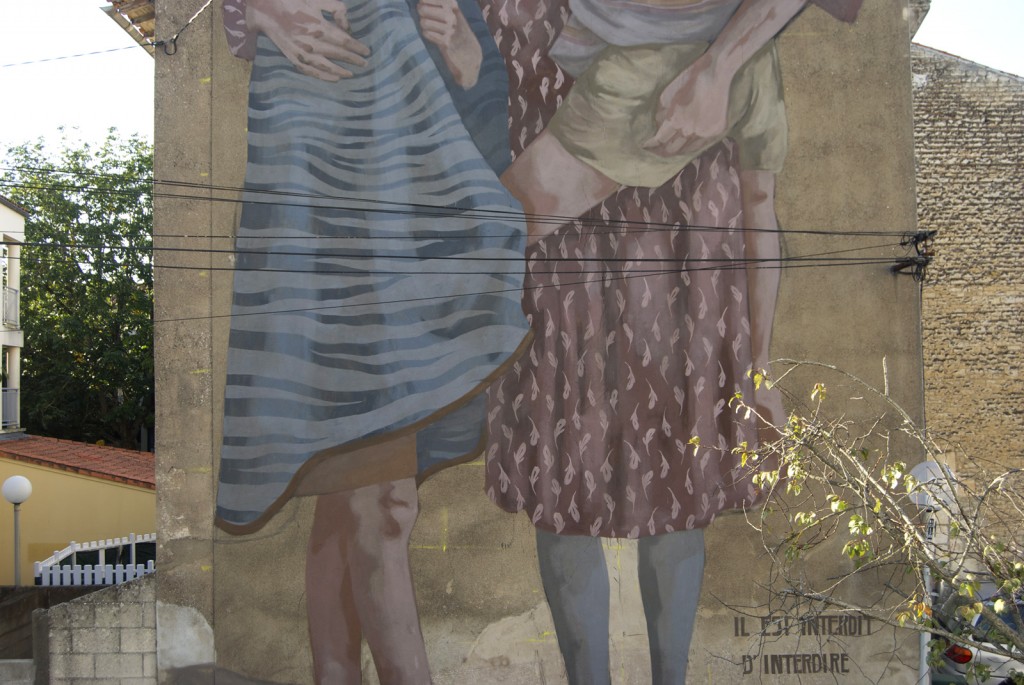 ¨Espacios de empoderamiento¨ San Potito Sannitico, Italy, 2015. Fate Festival. Many special thanks to Tono, Nino, Julianna and all the beautifull people from San Potito for their hospitality.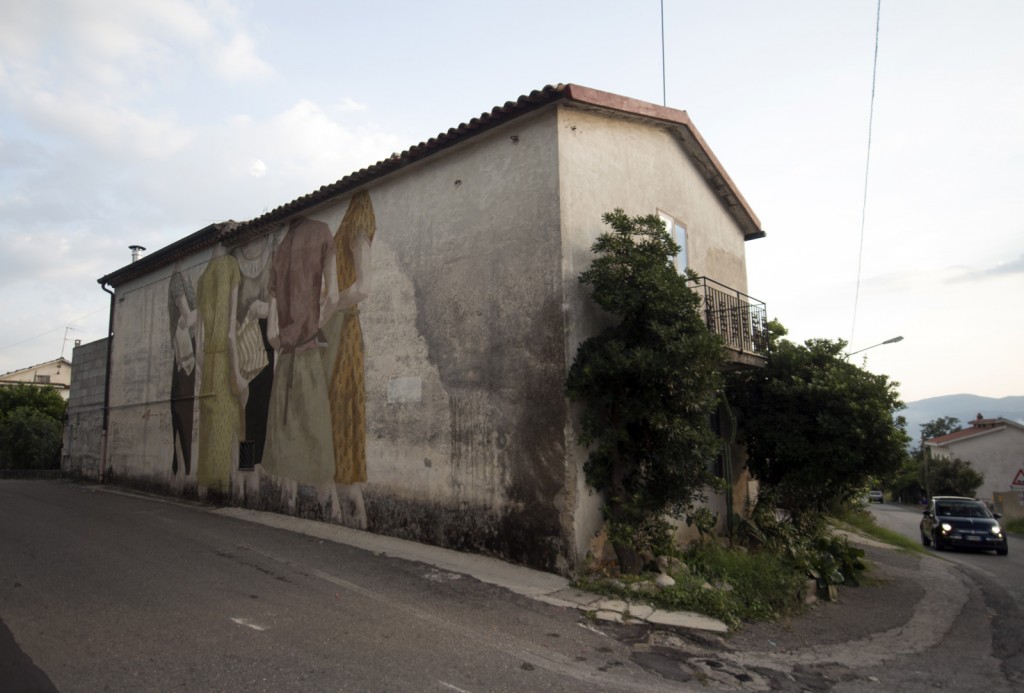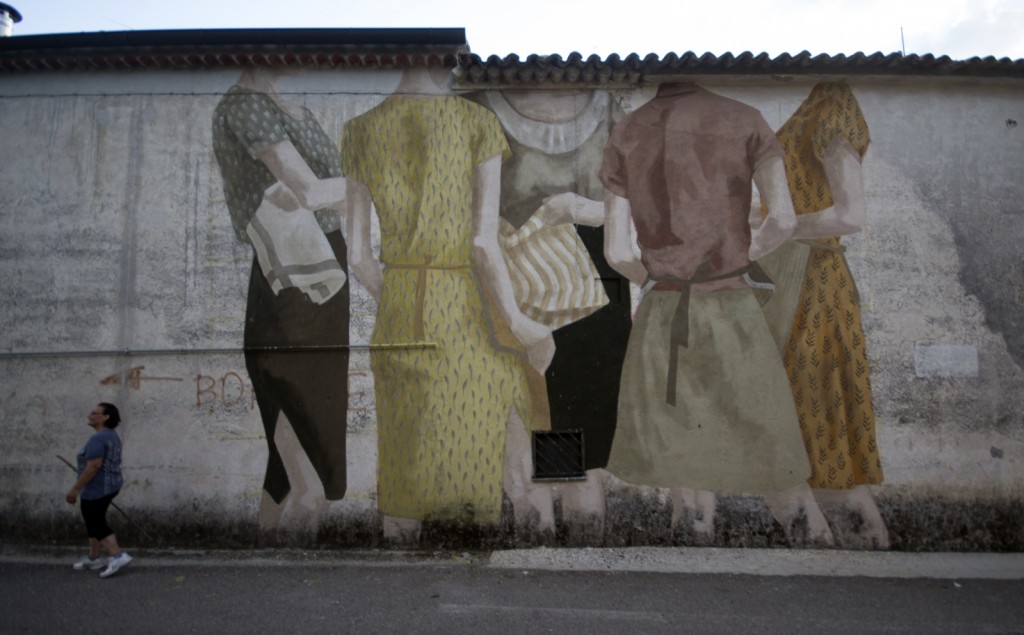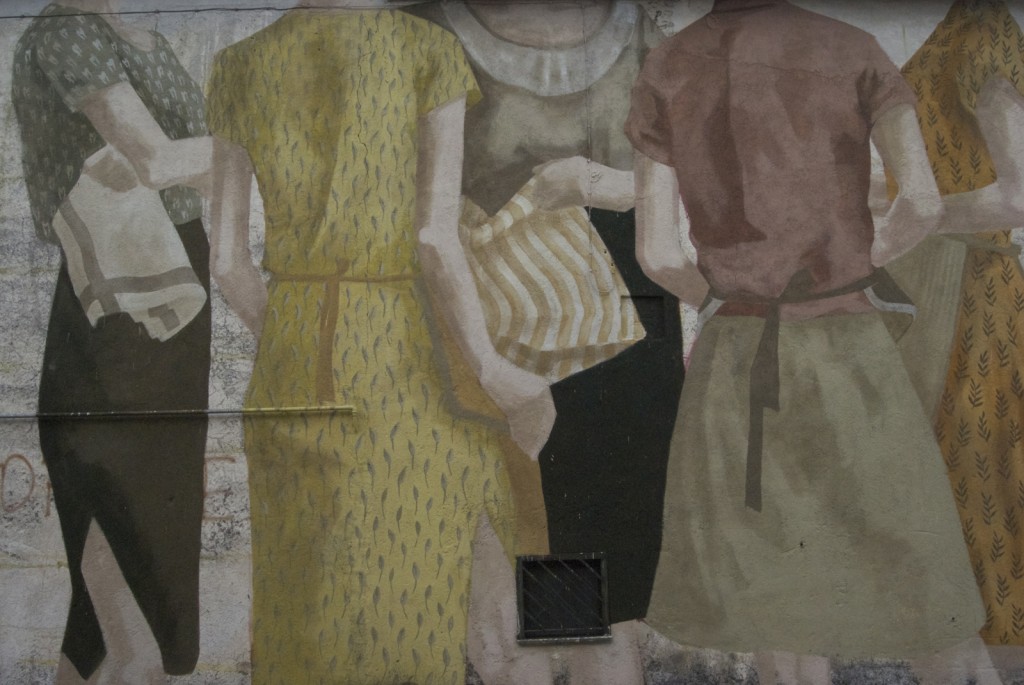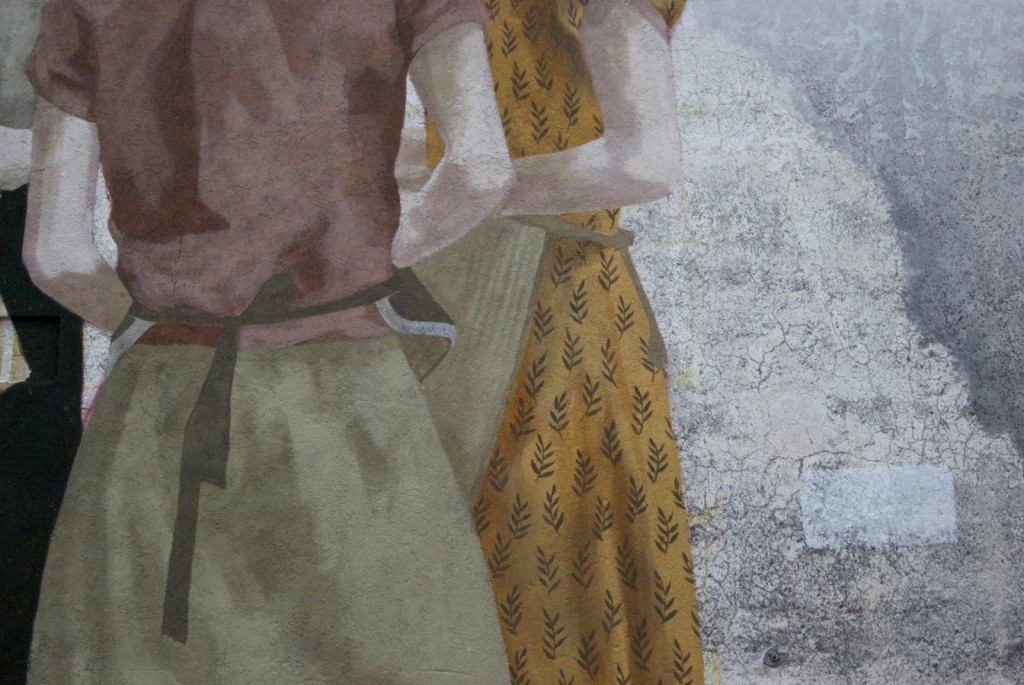 This wall is part of a third age care center located in the Piazza Rita Levi Montalcini.
Many special thanks to Marco Tani, Andrea Rossi, Vicki Vic, Carlo Giuntini, Gilberto Cucini and all the people from Poggibonsi for looking after me during the week I spent there… great people, beautiful time.
( thanks to Marco Tani for the photos )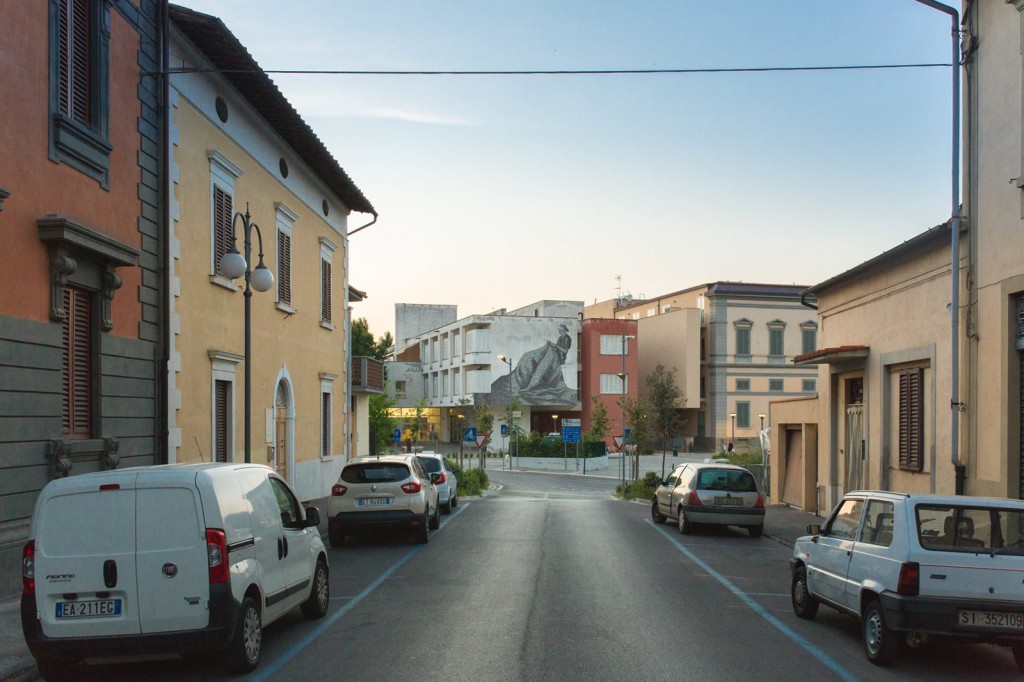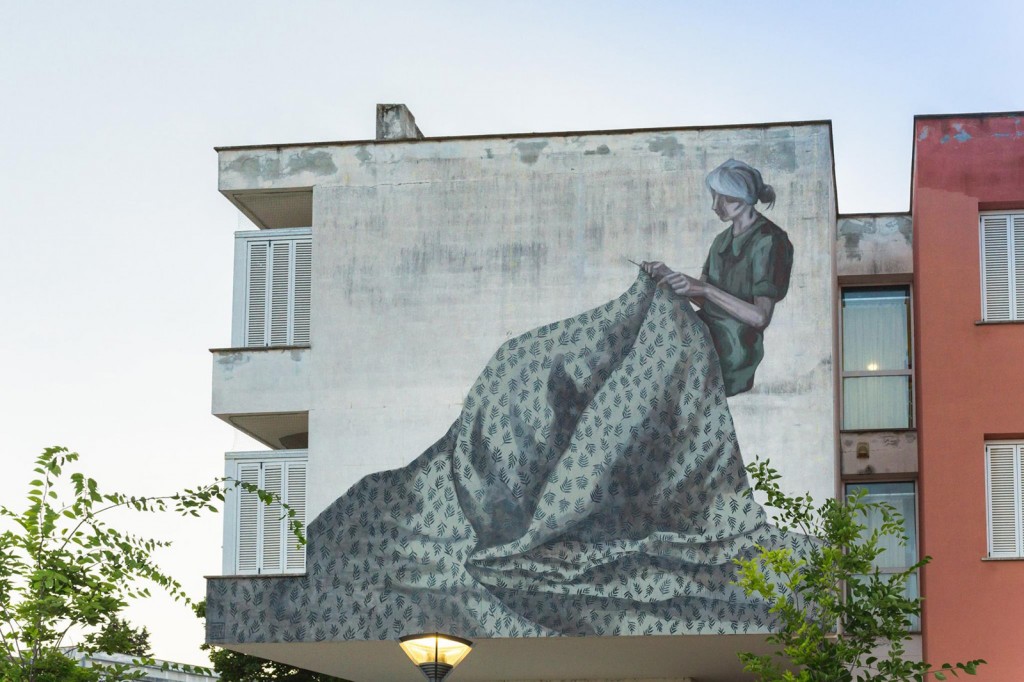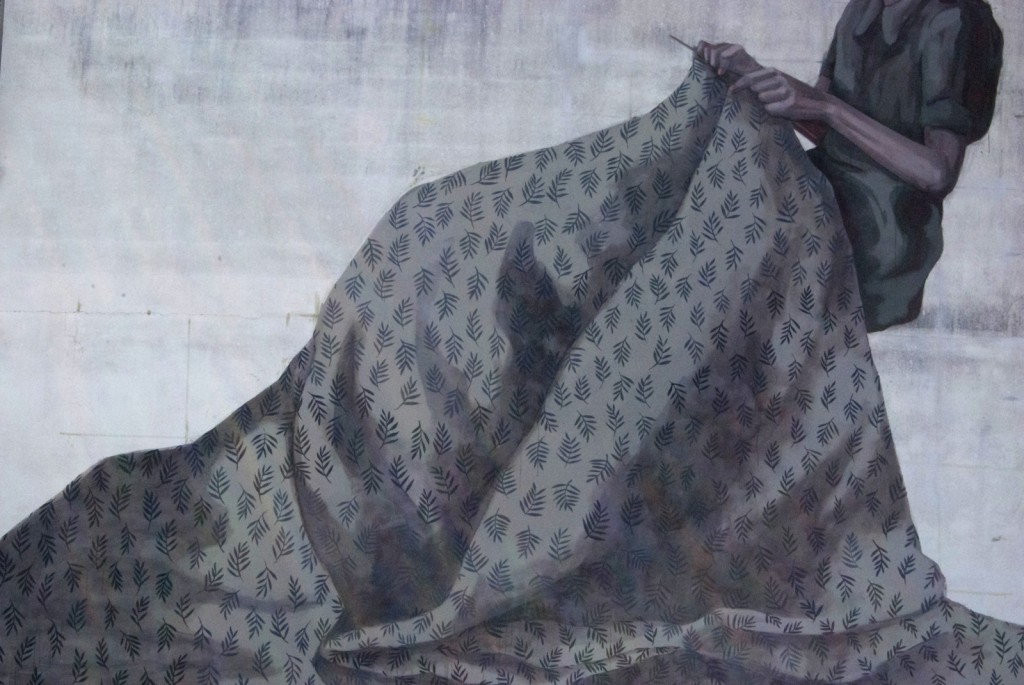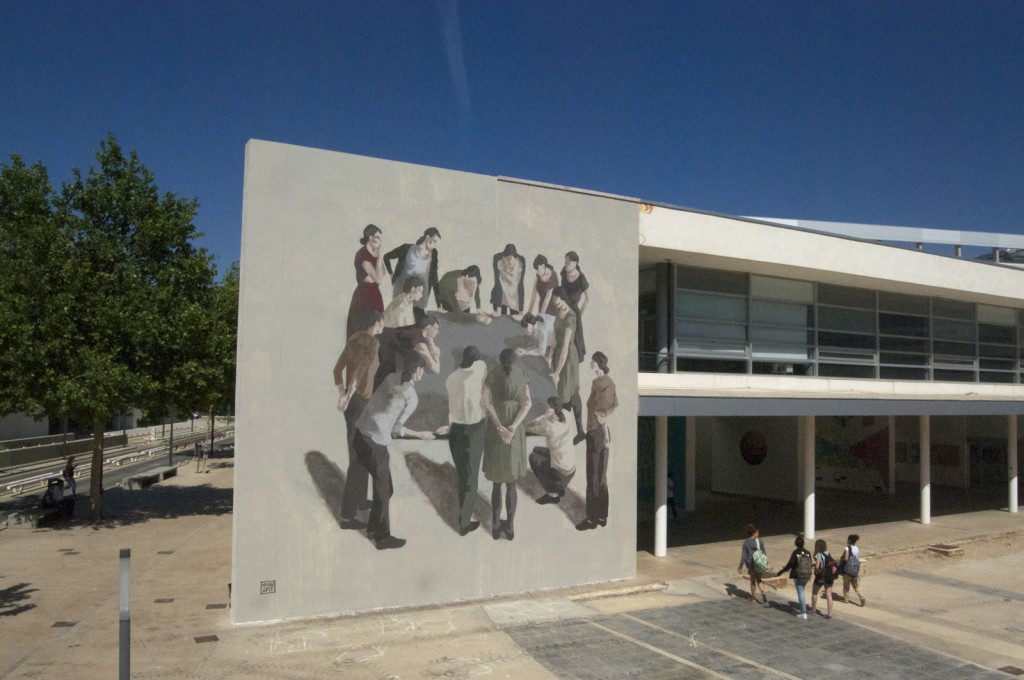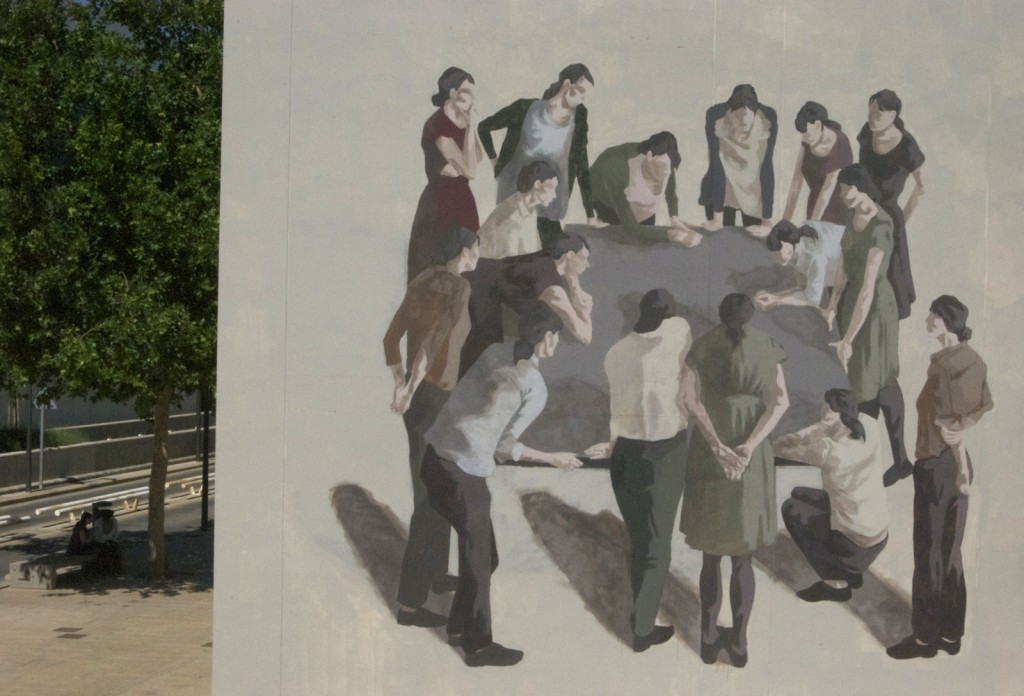 Special thanks to Juan Canales and Juan Peiro  for the good energy and care that they put to the festival and to the artists.
The wall is part of an unoccupied buiding, that in an unussual way in the 131 years of its existence it appears to have had only two occupiers or at least only two for 120 years of that time.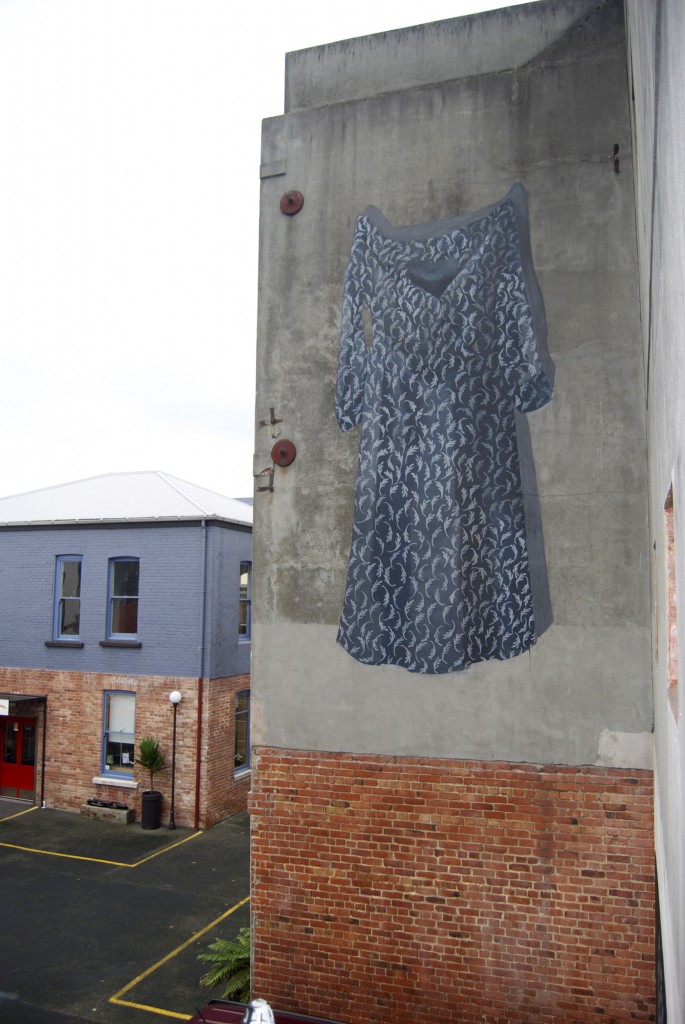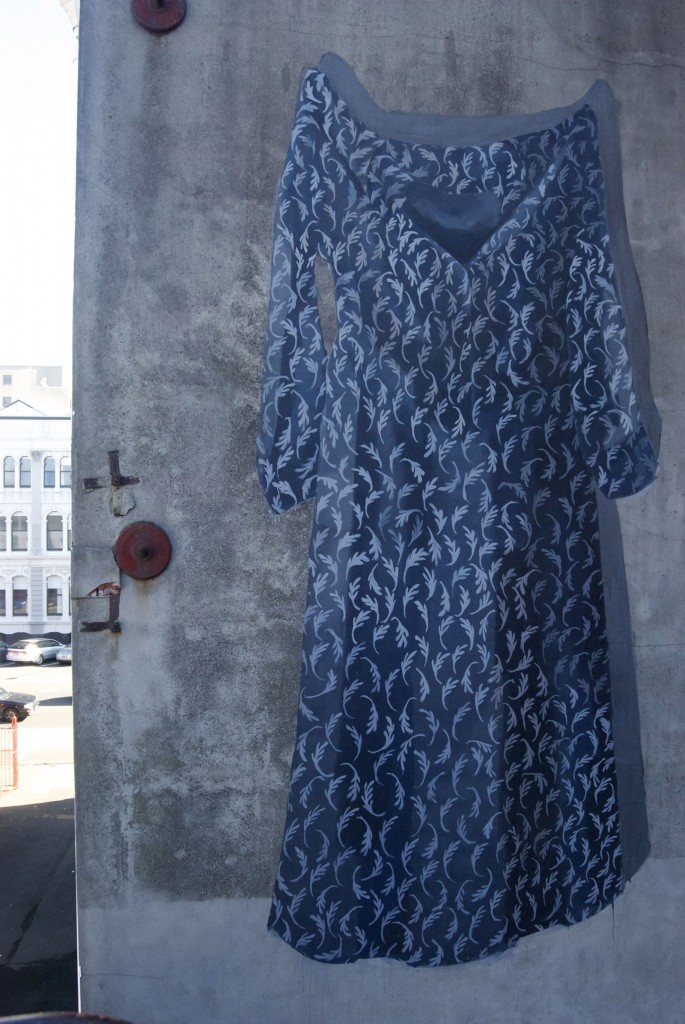 Special thanks to Justin Cashell, Glen Hazelton, Jessica White, Martine Cashel-Smith and all the people that looked after me during the time I spent there.
The area the building wall is located in is between the area known as 'The Exchange' and that known as the 'Warehouse Precinct'.
The Exchange was earlier the city's commercial hub.
The wall is located on a juncture between the two "worlds" – both of which were negatively impacted by the changing economy.
Over time both areas declined, lost its hustle and bustle and many buildings were demolished.
After decades of decline, the area is now being rejuvenated.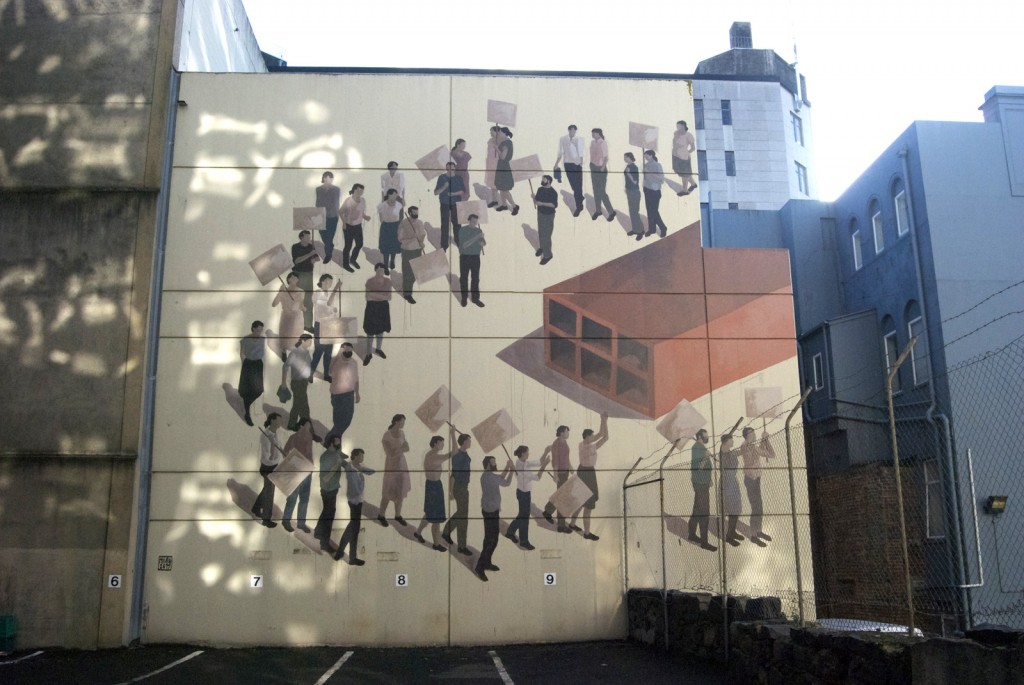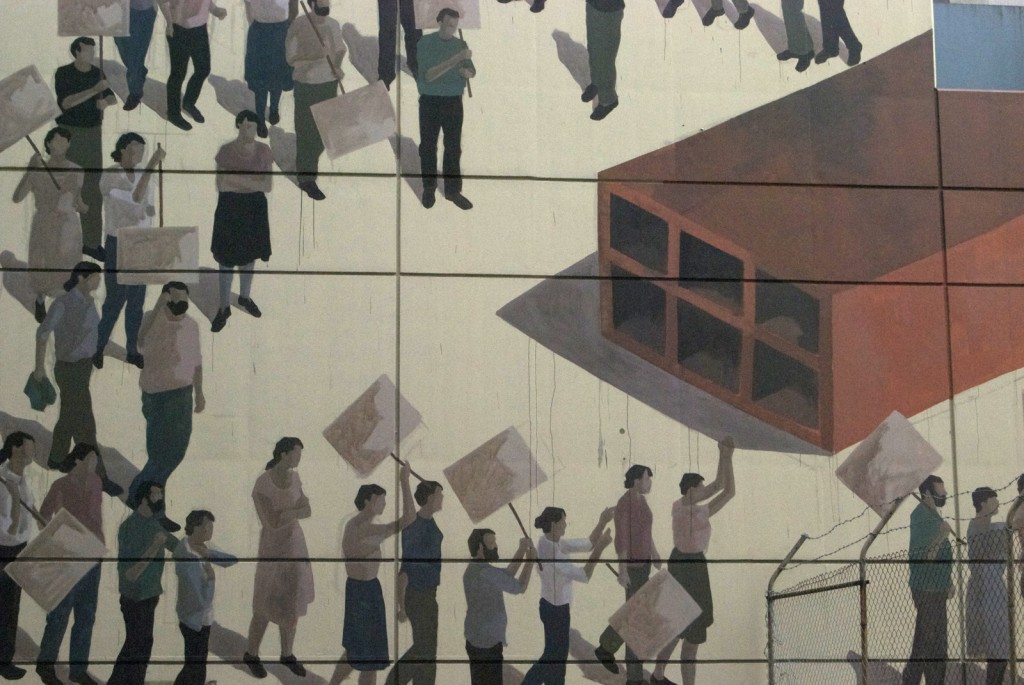 Special thanks to Justin Cashell, Glen Hazelton, Jessica White, Martine Cashel-Smith and all the people that looked after me during the time I spent there.
¨24 Fragmentos de una Jornada Laboral¨- Metro de Madrid- Madrid, Spain 2015- Organizado por Street Art Madrid Project. Especial agradecimiento a Guillermo, Diana, Daniel, Lucas, David, George, Israel y Fernando por su gran ayuda durante las dos noches de trabajo. Gracias a  Guillermo de la Madrid por las fotos.
Intervención realizada para el Día Internacional de la Mujer Trabajadora.
24 Imágenes que representan tareas realizadas dentro del ámbito del hogar, tanto de crianza y cuidado como domesticas . Labores que realizamos cada una de nosotras sumadas al resto de trabajos y actividades que mantenemos fuera del hogar. Terrenos conquistados tras años de batalla por una igualdad de género, los cuales, más que aliviarnos del trabajo domestico, han incrementado nuestra explotación. Esta intervención no niega la presencia activa del hombre en este ámbito, simplemente subraya la idea de que estas labores sigan siendo consideradas en su gran mayoría tareas de la mujer, sin lugar a la elección. No solo han sido impuestas sino que han sido transformadas en un atributo natural de nuestra psique y personalidad femenina, en vez de ser reconocidas como un trabajo y remuneradas como tal. La demanda de un salario para el trabajo domestico, lo realice un hombre o una mujer, es tan solo una manera de evidenciar su existencia desde una perspectiva política.
"24 Fragments of a Work Day" – Metro de Madrid- Madrid, Spain 2015 – Organized by Madrid Street Art Project. Intervention performed for the International Day of Working Women.
24 Images that represent tasks performed within the scope of the home, including child rearing and care, and domestic chores. Work that women do in addition to other jobs and activities that we perform outside of the home. Terrain conquered after years of battle for gender equality, which, rather than relieving us from domestic chores, has increased our exploitation. This intervention does not deny the active presence of men in this area, simply emphasizes the idea that most of these tasks are still considered duties of women, with little room for choice. Not only have they been imposed on women, but have been transformed into a natural attribute of our psyche and feminine personality, instead of being recognized as a job and rewarded as such. The demand for a wage for domestic work, performed by a man or by a woman, it's just a way of demonstrating its existence from a political perspective.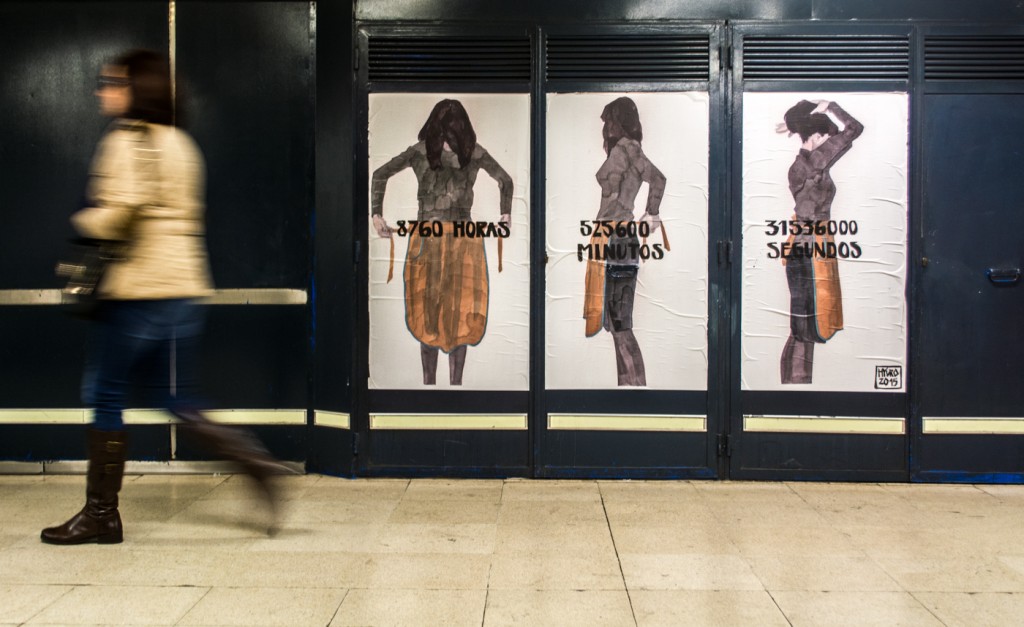 Links: